Google is back at it again! They have revised the layout of text ads on desktop so that they will now show above and below the organic listings vs. the right hand side of the page. Many advertisers will be examining what this change means for themselves and clients. Here's what we currently know:
1. There will no longer be text ads on the right side bar
2. Google will now have four text ads instead of three above organic listings
3. The total number of ads that can be shown on a page will decrease to seven
4. This only affects the look of a SERP on desktop
Though this seems sudden, Google has been experimenting with this new ad query for over 5 years. It was confirmed February 19th that this change would become permanent when research showed the top ad text spots were clicked on significantly more than right-side ads.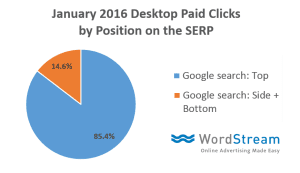 It is still too early to tell if this will increase CPC; (Cost Per Click) Though it seems likely prices will rise due to less ad space available and a more competitive market. This will effect e-commerce advertisers the most. Advertisers will definitely need to follow the evolution of this current Google change to stay ahead in their digital ad strategies.
The flip side of placing ads on the top and bottom of SERP's (Search Engine Results Page) means the "organic" search space will become even more valuable. We will see an increase on businesses focusing on SEO for this reason alone. The competition for organic search will become fierce.
Our team will stay current on all of Google's new ad changes and make sure our clients SEO and digital strategies are performing well. If you're not sure how this change will affect where your business is listed on Google, call us or email Midwest Marketing.
Sources: searchenginewatch.com and searchengineland.com