If your marketing objective includes getting to know your audience, gathering valuable customer feedback, or increasing conversions, listen up – Facebook lead ads are a fast and easy way to help you reach your goal. But what is a lead ad campaign and how can you use it for your business? Continue reading to learn how you too can harness the power of lead ads!
What are Facebook Lead Ads?
Does your business rely on growing leads or acquiring customer data? If the answer is yes, lead ads are a must-have addition to your marketing strategy. Lead ads look like typical Facebook ads: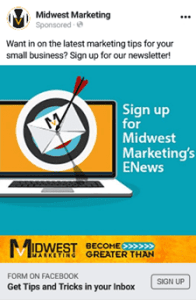 However, after the Sign Up button is clicked, a form will pop up on the user's screen instead of them being directed to a website or other landing page. You can customize your form to include questions that make sense for your company, like asking for email, name, and company name for a newsletter signup, such as the example below.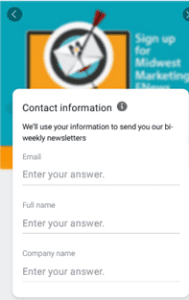 Why Facebook Lead Ads?
Facebook lead ads are great because they allow you to customize your lead campaign based on whether you would like your ads to reach a large amount of people or whether you would like to reach only those leads with a higher intent.
If you would like to reach a wide audience, make sure your form is fairly simple and contains only a handful of questions to encourage those that may not have a lot of time on their hands. Facebook also makes things easy by pre-populating user information that is available, making the form even more simple to complete and increasing the likelihood that it will be submitted.
If you would only like to gather high-quality leads that will have an increased likelihood of being a customer, your form should include more questions to allow you to get more data. Facebook also allows those searching for more high-intent leads to include a confirmation page with their form, an extra step that allows users to second-check their entries.
How do I use Facebook Lead Ads?
No one wants to just fill out a form for the sake of filling out a form. However, with lead ad campaigns, you can utilize this platform in a way that makes sense for your business and compels potential customers to practically throw their information at you. You can model your form into a quote request, newsletter signup, event registration, or, in the case of an auto dealer, a form that allows people to schedule a test drive.
Free stuff is also a surefire way to grab attention, making contests an excellent way to utilize a lead campaign. Facebook takes the guesswork out of creating a contest by laying out all the disclosures in the form, as well as compiles all the entries into a spreadsheet that makes choosing winners a breeze.
Ready to take advantage of Facebook lead ads and start seeing those valuable leads pile up? Our digital marketing team is here to help! Contact us today for a free consultation, where we will discuss your goals, your budget, and what exactly lead ads can do for you.