Just when you finally start to understand social media and digital marketing, you see a notification that a digital marketing update was released. After reading the news, you might feel confused and frustrated; but have no fear, for Midwest Marketing is here!
We'll take you through some digital marketing updates from our latest findings that you may or may not be aware of yet. So, grab a beverage, and get ready to learn about these 3 digital marketing updates!
1. LinkedIn launches a 'schedule for later' option for posts.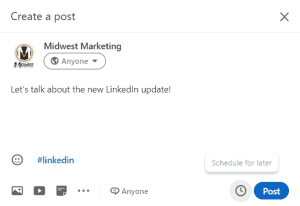 There's no need to remember manually publishing your posts anymore, because scheduling content on LinkedIn just became an option! Now you can create posts and schedule it to go live at a later time as well as view a list of your scheduled posts.
To do this, start a post from the top of the LinkedIn homepage. After you craft a post, click on the clock icon (located in the lower-right corner). You can then select a date and time for the post to be shared.
2. Meta moves to improve its video ad placements for digital marketing.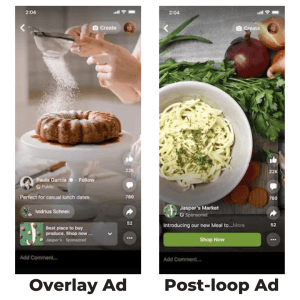 Meta recently added a couple of in-stream ad options for videos and Reels on its platform. Organizations can choose to use overlay and post-loop ads on Reels automatically through Advantage+ placements or manually if using the Manual placements option.
On the other hand, in mid-April, Instant Articles were no longer available as an ad placement. (If you didn't know, Instant Articles was a platform that allowed publishers to distribute their content as native media on Facebook's mobile app.) With Instant Articles leaving, all existing ad sets will no longer include this ad placement.
3. The deadline for Google Analytics 4 (GA4) grows near.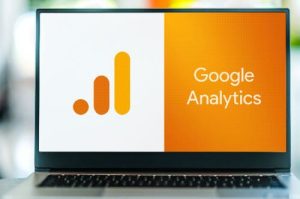 If you've been a longtime reader of our blogs, you probably already know about this digital marketing update. However, with the deadline being right around the corner, it goes without saying that we'd touch on the transition from Google Analytics 4 (GA4) to Universal Analytics (UA) again.
Long story short, Universal Analytics will stop collecting new data on July 1, 2023. Six months after July 1, 2023, you'll still be able to access UA data that was collected through June 30, 2023. Finally, on October 1, 2023, UA will no longer be available and all data that was stored on the platform will be inaccessible. Needless to say, your organization should set up GA4 immediately.
– –
Want more digital marketing updates from us? Then subscribe to our weekly email newsletter for the secret sauce of marketing!