Do you want more high-quality leads for your service-based local business? Google Local Services ads may be just the solution you're looking for.
As your trusted Black Hills digital marketing professionals, we're here to break down what Local Services ads are and how they can benefit you. Continue reading to learn more about Google's exciting lead generation product!
What are Googles Local Services ads?
Local Services ads allow you to show up at the very top of search results when people are searching for local service-based businesses such as electricians, HVAC professionals, real estate agents, or financial planning, for example.
What makes Local Services ads unique is that you only pay when people contact your business through the ad, whether that's by calling your location, messaging you, or filling out a contact form.
To qualify for Local Services ads, a business must first pass a screening process that involves license and insurance checks. The specifics of the process varies depending on the business type and where they are located. Once the screening process is complete, the business will receive a Google Guaranteed badge like the one below.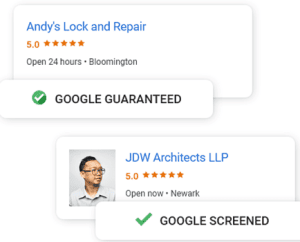 Build Consumer Confidence by Becoming Google Guaranteed
By earning your Google Guarantee badge, you are showing potential customers that they can trust your business. In fact, Google stands behind your company so much that if a customer is dissatisfied with your work after going through Local Services ads to find your business, they can contact Google and Google will refund them the full amount of the services, at no cost to your business.
Drive Visibility and Clicks
Local Services ads will take your listing higher than the best organic SEO strategy or other pay-per-click ads ever could – they allow you to be seen at the very top of the results page.
Only Pay for Quality Leads
The only thing worse than getting a spam lead submission is having to pay for it, and with Local Services ads, Google takes that worry out of your hands. If you happen to receive an invalid lead through your Local Services ads, you can dispute the lead with Google and get credited the cost of the lead. This means that 100% of your Local Services budget will go directly to getting high-quality leads for your business!
Set Your Own Budget
With Local Services ads, there is no minimum spend amount and you can pause or stop your campaign whenever you would like. When setting up your Local Services campaign, Google provides a handy cost-per-lead estimate using your industry and geographical location, which allows for estimating how many leads you can expect to get for your given budget. Even a budget as low as $100 a week can get you 2-5 qualified leads a week, so they can go far in maximizing your marketing dollars.
Ready to get started?
For only $450, we will set up your Google Local Services campaign, including completing the verification process. After set-up, we will optimize and manage your campaign with your approved budget to give you the best return for your investment.
Give us a call at 605-716-5666 today!